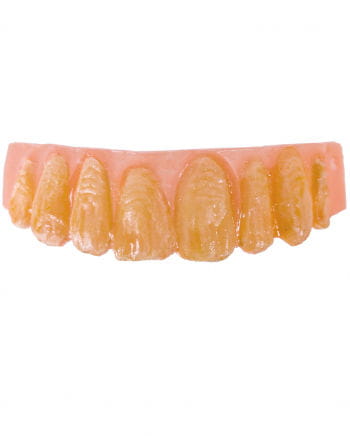 Brutal Nicotin SFX Veneer Teeth
Item #:
17725
Reduced from £23.70
£17.05
incl. VAT, plus shipping
Available
Delivery until
19.02.
possible**
---
Brutal Nicotin SFX Veneer Teeth
Wafer-thin splint as SFX make-up accessory for Cosplay, LARP & Halloween
Rotten teeth are one of the most expressive make-up effects to give your character the uncanny look of a villain. With the Brutal Nicotin SFX Veneer teeth you own as used in the Hollywood movie industry, quickly skew and nicotine discolored teeth. The professional Brutal Nicotin Veneers are only a touch larger than your own normal row of teeth and are fitted with an impression material to your teeth in such a way that these hold at the end by negative pressure, without the Brutal Nicotin SFX teeth must be stuck. Make an appearance as a fearsome pirate, monk, chain smoker or eerie serial killer with those horrible-looking rotten teeth.

The Brutal Nicotin SFX Veneer Teeth are professionally manufactured veneers for theatre, film and stage. The ingenious, extra-flat veneers with the included impression material are very easily adapted to your own teeth and can therefore be used again and again. Extreme, blatant special make-up effect that is guaranteed to cause a sensation.
---
delivery: 1 x Brutal Nicotin SFX veneer teeth
Contents: Veneers for the upper jaw, adhesive powder in capsules, Activator liquid.
Colour: White/Beige/Brown
Size: One Size
Material: dental acrylic, plastic

Instructions:
First you should try out how to use the veneer most naturally. It is best to stand in front of a mirror and see which position looks realistic while covering your own teeth. Hold the position.
In a glass or metal container you now have to mix the mass (important: no plastic or paper container). For this you have to empty the contents of all 3 capsules, as well as the complete liquid activator, into the container. Mix the mixture with a asparagus or teaspoon until it thickens and has approximately the same consistency as toothpaste (takes about 1 minute).
Now you have to apply the complete mixture from the container to the back of the veneers so that the lower 2/3 of the veneers are covered. It is important that you leave the upper third free, as this is where your gums are located and the mixture could look out from the edges if necessary.
Now you have to press the veneers with the mixture onto your teeth as you practiced in step 1. When you have reached the desired position, press the veneers lightly against your own teeth with all fingers simultaneously. You must hold this position for 1 minute. Excess material will be squeezed out on the underside of the veneers. Press the excess material with your thumbs sideways towards your molars, but not behind your front teeth. Wait another minute.
Keep the veneers pressed against your teeth for 5 minutes. It is best to put your head on the back of your neck to avoid drooling. The material can warm up slightly as it takes the shape of your teeth so that you feel a slight tingling sensation.
If you now want to remove the veneers, shake the underside a little and pull off the veneers from above with your fingers. Excess material that can be seen on the front of the veneers can be cut off with nail scissors.
Do not bend veneers or immerse them in hot liquid.
Warnings:
The veneers are not toys and are not suitable for children.
Do not use over braces, crowns or other tooth inserts.
Do not eat, drink or sleep with your teeth
Do not smoke or burn near naked flames during the fitting process, as the mass is flammable in liquid state.
Not suitable for children under 14 years.
Contains small parts that can be swallowed or inhaled.
Supervision of adults is required.