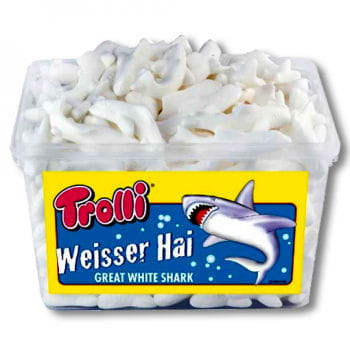 Trolli Great White Sharks
Item #:
19725
Fitting for this:
Add the product directly to your basket by clicking the checkbox
---
Trolli Great White Sharks
From the depth of the ocean this great white shark will atatck your taste buds!
Since Steven Spielberg's "Jaws" everybody knows that the monstrous fish is one of the most dreaded predators of the ocean. Only the mention of its name will bring happy bathers to leave the water immediately and a day at the beach can turn into a nightmare in the blink of an eye.
But don't worry! All the sweet, white sugar foam sharks by Trolli will attack are your taste buds. The slightly lemony taste of these gummi sharks is guaranteed to turn you into a fan of the great white in no time at all. The Trolli sharks make a great Halloween table of buffet decoration. And if you pep up their jaws with a little blood red jam or sugar syrup, they will look even scarier.
---
Quantity / weight 150 pcs, 1125 g. Base price is 5,32 Euro / kg
Ingredients: sugar, glucose, dextrose, gelatine, acidifying agent: citric acid, lactic acid; flavouring, glazing agent:beeswax, Carnauba wax
Nutrition facts per 100 g: calorific value 1443 kJ / 340 kcal, protein 5,4 g, total carbohydrate 78,8 g, sugars 66,3 g, total fat 0,1 g, satureated fat 0,1 g, salt <0,1 g